Burton ride to Clifton and Cackle Hill, December 2019
Six hardy cyclists turned up at Abbey Arcade, Burton for our Clifton ride. It was just above freezing, but with no wind. We cycled through Rolleston and Hatton and climbed up to Longford, Alkmonkton and eventually Dobbin Horse Lane. We kept up a good pace, the sun came out and the winter crispness in the air was exhilarating.
I had some anxiety about the flood at the bottom of Dobbin Horse Lane, as it had been quite a challenge when I did the recce, three weeks ago. We discussed it and Geoff said he was prepared to go first.
In the event everyone cycled through the flood, except me. I walked round the edge, preferring caution to wet feet.
After breakfast at Fairways Cafe, we crossed the A515 to Clifton, where we admired the elaborate lych-gate at the church with it's own clock tower. The climb out of Clifton is tough but the views over to Ashbourne more than compensated.
Cackle Hill was tackled with the group's usual determination.
Roston Common and Marston Montgomery were quickly passed, before arriving in Sudbury for lunch.
The group dispersed after lunch, some people feeling they needed a few more miles before going home.
Thanks for your company guys, and Geoff, special thanks for lifting my bike round the flood.
Richard Evans
Photo Ian Hill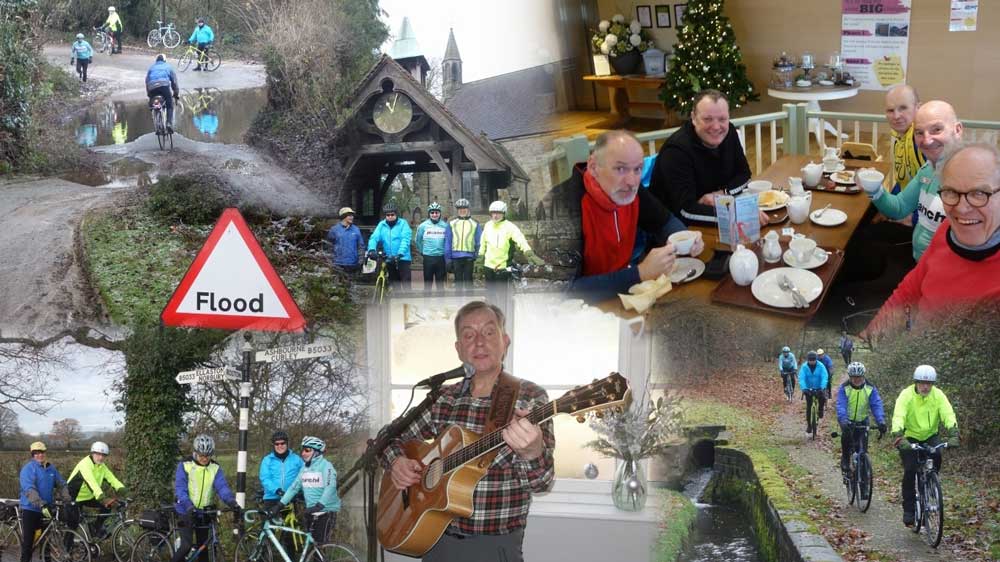 Tuesday Wayfarers Ride Neglected Villages, October 2019
Seven riders met at The Orangery on a cool dismal autumn morning.
Our convoluted route took us up Radbourne Lane and through Radbourne Village, then up to Lees before descending to Dalbury where after negotiating a lot of surface water we arrived at the church for our first stop. Fortunately it was open so we were able to enter and view the interior some of which dates from the 13th century.
After a photo stop under the yew archway we regained Radbourne Lane and then took a right turn to visit Trusley, the roads were wet but not as muddy as expected and we completed four sides of a square returning to Radbourne Lane where we left it. Riding back towards Mickleover we turned right down Heage Lane where we accessed the Greenway which we followed to Sutton Lane and to Tara for an excellent lunch.
After lunch we briefly saw the sun and the roads were drying out so returning via Sutton, Cropper Lane to Thurvaston and Long Lane. Over Burrows, Buckhazels Lane and Kedleston Park brought us back to Markeaton for tea and cakes.
Around 30 miles cafe to cafe an enjoyable ride without any rain. Thanks to all for your company and conversation.
David Walker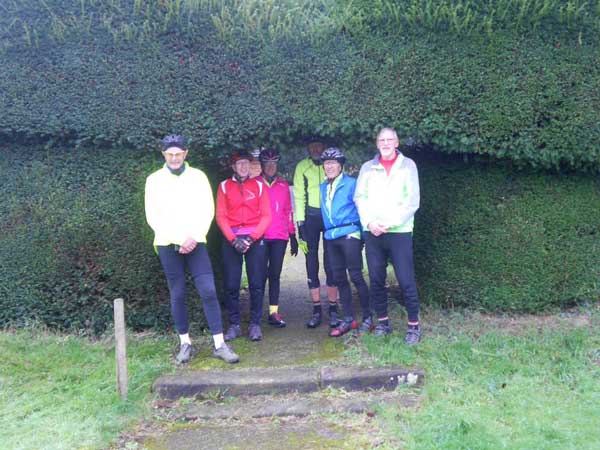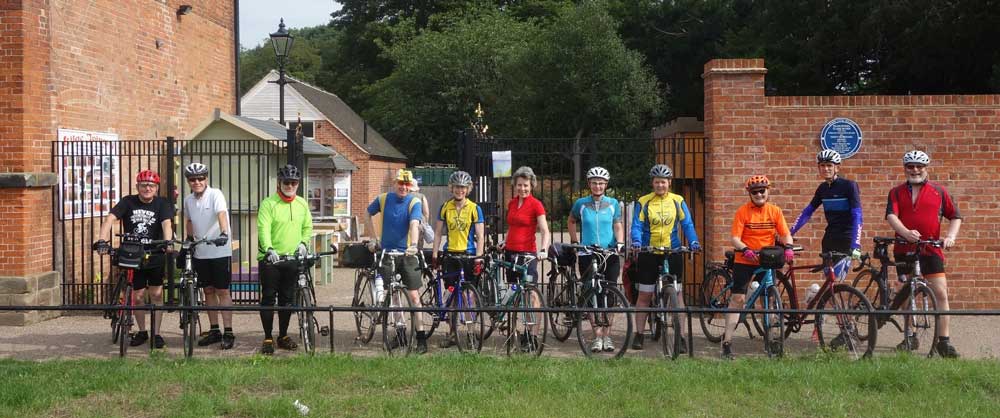 The Roughstuff Ride last Sunday fitted in nicely between the showers in the days before and afterwards so there was no raging torrent at the ford on the bridleway between Morley and Stanley, just the usual 3 foot to ride or hop across. 12 riders started and all completed the course as a group ride with an excellent route and a chance of some new tracks for some. Derby was left on the Great Northern Greenway, then the bridleway taken to Stanley. There were then quiet lanes to Stanley Common and onwards through Mapperley to enter Shipley Park. The Country Park has 700 acres of rolling hills, wildflower meadows and lakes. It opened in 1976 after the previous coal opencast mining ceased and the land was reclaimed and it is a popular destination for cycling and walking with many paths around the Parkland. Lunch was enjoyed at the visitor centre cafe. The riders were now on the edge of Heanor and trails led to Shipley Gate. Here the Erewash Canal path was followed for a pleasant quiet ride past the edge of Ilkeston. Lanes were joined for a climb to Stanton-by-Dale, a pretty village of stone cottages, then a bridleway through the woodland of Hopwell Hall. The Derwent River path took the club back from Borrowash into Derby and a celebratory drink in the sunshine on the rooftop terrace of the Brewery Tap.
Ian Hill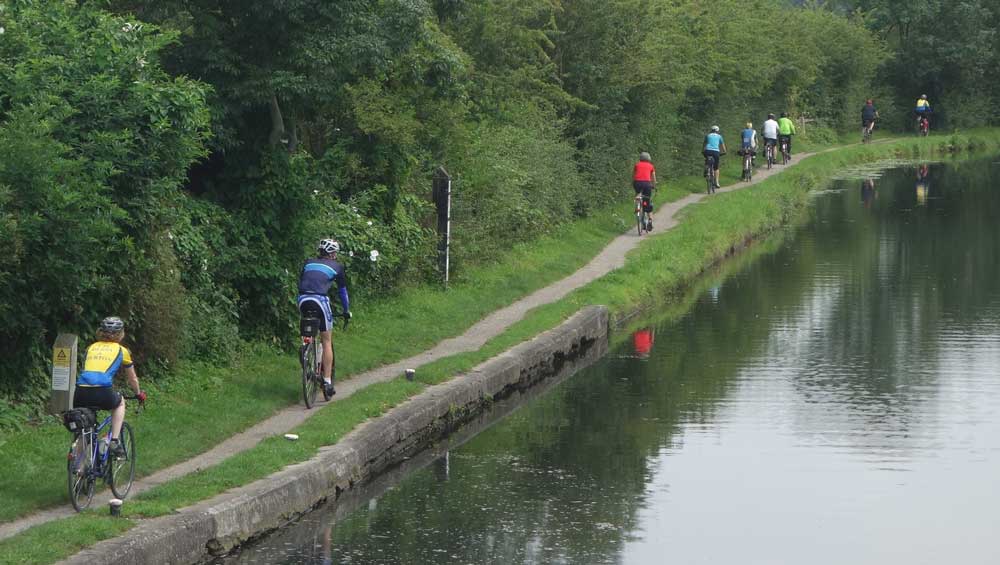 Thursday Ride to Bosworth Battlefield, June 2019
11 riders and one non-rider (Dave W) met at Swarkestone Garden Centre on Thursday for the ride to Bosworth Battlefield. The initial climb to Ingleby warmed us all up ahead of the long ride down through Milton, Hartshorne, Boundary and on to Moira where Maurice and Keith decided to leave us and take a more relaxed route. We continued south through the wonderfully named Newton Burgoland (the name being derived from 'Burgundian Homestead' apparently). We then took a small detour to Shackerstone station which is on the Battlefield (preserved) railway line. Whilst closed on Thursdays we got chance to see the station and some of the rolling stock. At this point it was noticed that Malcolm had disappeared. After much fruitless effort to phone him we started back onto our route only to find him a few yards away on the track making a running repair to his broken saddle. He sensibly left us here and returned (successfully) to Derby for a more permanent repair. Lunch was taken al fresco at the Battlefield Visitors Centre. Now down to 8 riders we took a route back through Sheepy Magna, Orton on the Hill (with its interesting church tower/steeple), Austrey, Lullington and on to Rosliston Forestry Centre for afternoon tea/cake. Here the group split; 4 going up though Walton, Barton and Hatton, 4 off via Stretton. We clocked 82 miles, Graham managed 94! CTC rides seem to be getting longer. Overall a great day out.
Gordon Fleming
DAB Ride to Woodroffes Cottage, June 2019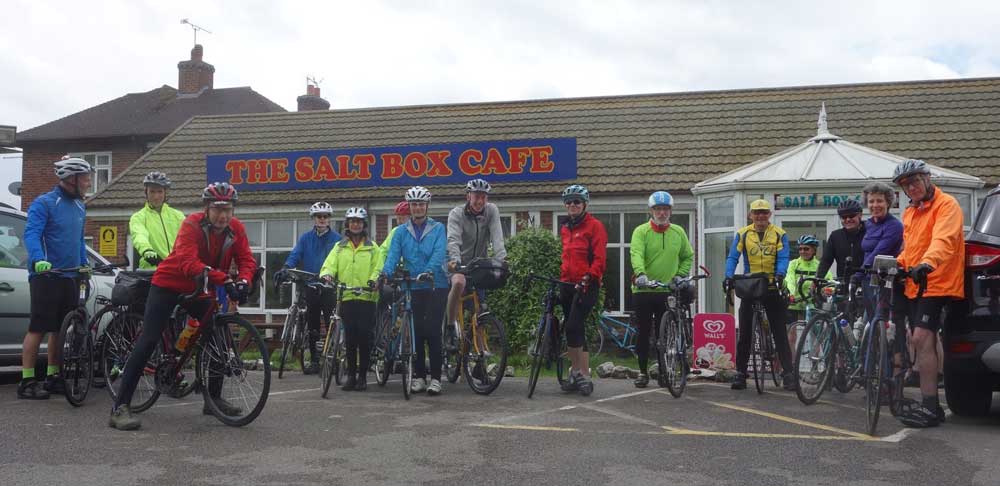 It was a joint ride last Sunday with the Derby and Burton groups meeting at the Salt Box Cafe at Hatton. Our first rider asked if they had any Father's Day specials. The reply was no, with a laugh. Tutbury Castle was then passed on the way to Marchington and the Marchington Woodlands. This is a collection of scattered farms and cottages in beautiful countryside nestling beneath the steep bank up to the Needwood Plateau. The day's objective was to see Woodroffes Cottage which is marked on the Ordnance Survey maps as an antiquity. It is the oldest building in the woodlands and was built on 1622. It remains largely unchanged. There was another stop at the church which was built in 1859 and financed by Thomas Webb of the Webb-Corbett glass works in nearby Tutbury. It stands in a lofty position with good views over the surrounding countryside.
On leaving we noticed the black clouds rolling in and sure enough the rain came on as we huddled under trees. It blew over in 20 minutes so it was worth the wait. The riders enjoyed narrow lanes through Gorsty Hill, Loxley Green and Highwood to descend into Uttoxeter for lunch at the Waitrose cafe. This was my first visit and it was a good and varied menu as well as having a picture window looking out over the town and also plenty of bike racks.
Uttoxeter has cycleways to avoid the busy A50 and these were followed to Doveridge. As some riders headed direct for home there was a large bang as a tyre exploded due to a weak sidewall. The sun was now out so nobody minded the wait whilst it was repaired. Out came offcuts of old tyre, tyre patches and offcuts of a toothpaste tube as items to cover the hole in the tyre. The tyre patch was chosen and this lasted for the trip home. A detour was then made to visit the quiet village of Somersal Herbert and to look at the medieval hall so two for the price of one today. There were a couple of climbs to Vernon's Oak and then a return back through Boylestone and Church Broughton where the groups headed their different ways home.
Ian Hill
Tuesday Wayfarers Ride to Staunton Harold, May 2019
The famous five met at the Waterside Cafe on a dry but cool May morning. Suitably refreshed we followed the Canal Path to Swarkestone and then joined the Cloud Trail at Weston. We stopped for a break at the river bridge when Steve spotted what appeared to be the remains of an old boiler beside the riverbank (see photo) none of us had spotted this on the many times we have stopped here and further investigation reveals that it was part of a pumping station supplying water to the passing railway engines. As we made our way towards Melbourne we were joined by Maurice who told us some of the history of the Kings Newton wartime army depot which trained soldiers in railway demolition as well as building and operating, they also practised bridge building over the river. We had a further stop in Melbourne to view the Hall and also visit the Norman church. Onwards to Staunton Harold Reservoir where we stopped to look at the remains of the 18th century Melbourne Windmill complete with 1970's Severn Trent addition in the guise of a viewing platform, unfortunately not available to the public for health and safety reasons. The Reservoir track and Broadstone Lane took is to Ticknall where we took the cycle trail around Calke Abbey to Heath End and the Ferrer's Centre for lunch.
A quick look around the exterior of the church and mausoleum and then the access road to Lount Lodge.
A stretch on tarmac took us to Breedon and then the Cloud Trail back to the Melbourne exit, Kings Newton, Stanton by Bridge and Ingleby Lane took us to Swarkestone Garden Centre for afternoon refreshments. The canal and river paths then took us home to Derby.
Not a great mileage, as-estimated 30 Alvaston to Alvaston but a pleasant day's ride in good company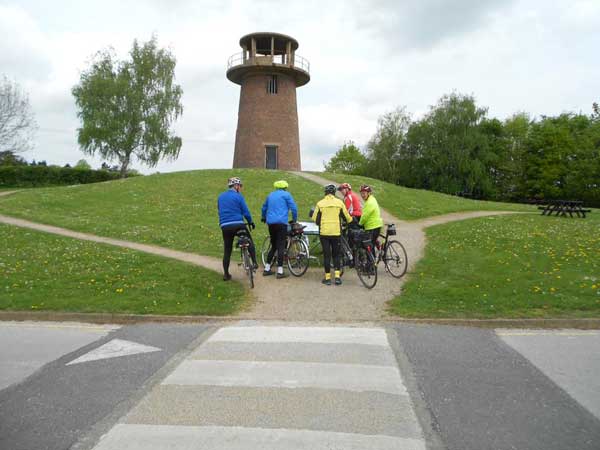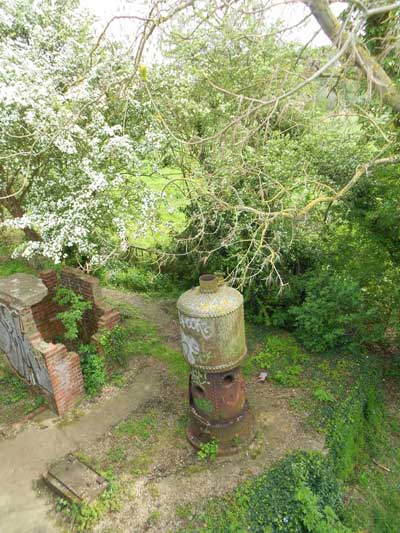 Meriden Memorial Service, May 2019
Clubs from all over the Midlands congregated on Meriden village green last Sunday, including CTC Derby and Burton, for the 98th Memorial Service for cyclists killed in wars. The ride down followed lanes through Lullington and Syerscote to Tamworth. A brisk run after soon got us off the main road and into the lanes southwards through Whitacre Heath and Maxstoke to arrive at Meriden just after 10am. We've never been this early. There was plenty of time for refreshments from the village shop and to watch the event being set up as clubs and other cyclists arrived.
The service commenced at 11am with hymns and readings culminating with the wreath laying at the Cyclists' Memorial, The Last Post and a minutes silence. The Bulkington Silver Band provided the music.
We then sped down to the village hall for tea and a selection of yummy cakes baked by the village ladies.
The return zig-zagged through the leafy single track lanes of North Warwickshire passing Ballards Green and Baxterley. Afternoon tea was at Sister's Cafe at Newton Regis Garden Centre, or rather it was tea and puddings this time. It was then a short ride back through Clifton campville and Botany Bay to Burton after another sunny Meriden service.
Ian Hill